Map & Directions
click on map for directions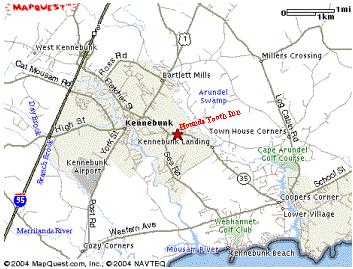 82 Summer Street / Rt 35
Kennebunk, ME 04043
Tel: 207-985-0117
From I-95, take exit 25 (formally exit 3)
Turn left onto Rt-35 South
Follow signs towards Kennebunk / Kennebunkport for about 3 miles.

Landmarks to follow:
Pass High School on left, at the "round-about" take third right (continuation of Rt-35 south)
At the main traffic light in the town of Kennebunk, take a left (there will be a Bank on the right and Library on the left),
get in right lane and take second right at the town hall. This is a continuation of Rt-35 S (well marked).
[the fire station will on your right and the police station on the left]. We are about 1 mile from this light.
Pass all the Captain's Mansions, go over the little railroad bridge, come to traffic light (Sea Road).
We are the eighth house on the left hand side of the road, a large white farmhouse with attached barn and circular drive
number 82 Summer Street (Rt-35 S), across from a 12 acre open land trust field.
[we are very easy to find, but if you see the "Wedding Cake" house on the left, you have gone eight houses too far]

Copyright ©2004-2007 Hounds Tooth Inn
Last Updated: 1/01/07
Website Designed & Maintained by: Q2Marketsite, Inc.