82 Summer Street, Kennebunk, ME 04043
207-985-0117 email: stay@houndstoothinn.biz

Pet friendly: not just pets welcome
For a home away from home, where pets are part of the family.
This 1843 farmhouse with attached barn is a four bedroom country B&B.
82 Summer Street
Kennebunk, ME 04043

The Kennebunk/Kennebunkport area is a great place to travel with your canine companion. We are located across from a 12 acre Land Trust, minutes from the beach, the port and downtown Kennebunk.  Around the corner is our Dog Park where dogs can socialize off lease in an enclosed area and Rogers Pond, another dog friendly park which has a wonderful pond for swimming where the Mousam River runs along side, no restrictions during the high season and is a great place for dogs to romp.   Enjoy the wooded bridal path to the beach which is ideal for bikers, walkers with dogs and Woodland Park for romps in the woods & streams or stroll Summer Street to view the grand historic mansions including the Wedding Cake House.

Our grounds include an acre of land and off the back patio is a fenced-in area for dogs to have supervised freedom.  Relax with a cold drink and enjoy watching your dog at play.     
click dog button to view Guest Photo Album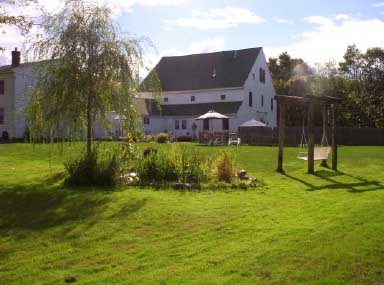 We ask that dogs not be left unattended in rooms.  Although we all agree our pets are calm and never bark; remember they are in a strange and new environment and tend to be very vocal about it when left behind.    Other guests & neighbors appreciate our quiet surroundings.  Dogs are allowed in the common areas, but due to state health laws are not allowed in the kitchen.
If needing a doggy daycare or sitting service, we can make recommendations with your reservation package.
| | | |
| --- | --- | --- |
| frog in the Hounds Tooth's Pond | | water lilly |